Regular price
$215.00 USD
Regular price
Sale price
$215.00 USD
Unit price
per
Sale
Sold out
The Thor's Lightning Rapid 4-Tire Air System allows you to air up and deflate all four tires (at the same time!) on your Midsize Vehicles (Jeep Wrangler JK/JL/JT, Ford Bronco, Toyota 4Runner, Toyota Tacoma, Ford Ranger, etc.) This system will also work very well with Four-Seater Side-by-Sides. The system can be used from the front or rear of the vehicle. The system includes the Thor's Hammer manifold (available in Candy Red, Candy Blue, or Quicksilver) with a digital gauge and quick disconnect STANDARD! 
The system utilizes high-diameter (1/4") hybrid rubber-PVC hose that works insanely well in cold temperatures, high-flow brass fittings, high-flow lock-on air chucks, and the incredible high-flow Lightning Fast Hammer Manifold. As a result, this is the FASTEST air system on the market. The Thor's Lightning Air System is the perfect companion for any air source- single or dual air compressors and PowerTanks. Once you manage the air pressure on all 4 tires at once, you'll never go back to the old fashioned way!
For vehicles with a compressor mounted in the middle of the vehicle (under the driver seat, etc.), a Thor's Lightning Air System Hose Extension is recommended to allow the hose to reach the opposite side of the vehicle. The Thor's Lightning Air System Hose Extension can also be used to help a friend on the trail air up, or use air-powered tools. The standard Air System and Air System Hose Extension comes with a fitting that will connect to air sources equipped with a standard I/M fitting such as the Lightning Bolt, the AirVault, ARB, or Power Tank. For other air compressors such as SmittyBuilt,  etc. a "Nitto" style adapter will be required for the Air System to be connected. For users with Viair compressors, a dual-quick disconnect Adapter will be needed.
NOTE: Thor's Lightning Rapid 4-Tire Air Systems all come equipped with Thor's Lightning Dynamo Lock-On Air Chucks that are class-leading because they work on ALL valve stems. Short valve stems (Toyotas), Apex RPV valve stems, and standard Schrader valve stems are COMPATIBLE with the Dynamo air chucks. We worked hard to eliminate the need to offer multiple air chucks and created the one and only Dynamo air chuck with Lightning Fast air flow, compatibility across all valve stems, and insane ease-of-use to lock the chuck onto the valve stem. We know you'll love them!
INCLUDED WITH AIR SYSTEM:
Thor's Hammer Manifold with digital pressure gauge and quick disconnects
2 Air Hoses with lock-on air chucks for all 4 tires with Air Chuck Covers
Pair of Thor's Lightning Velcro Straps (helps organize hoses)
1 year full warranty
Share
View full details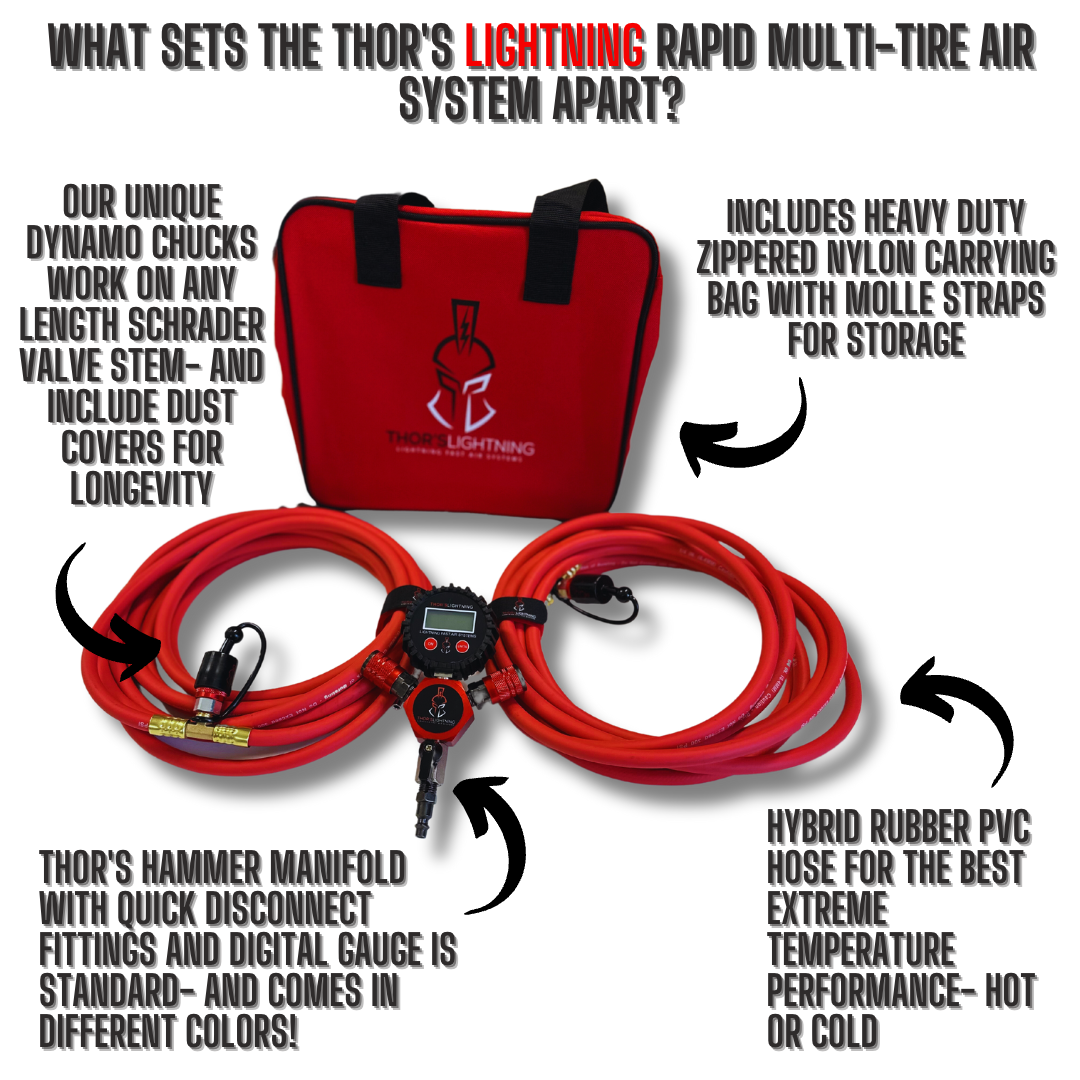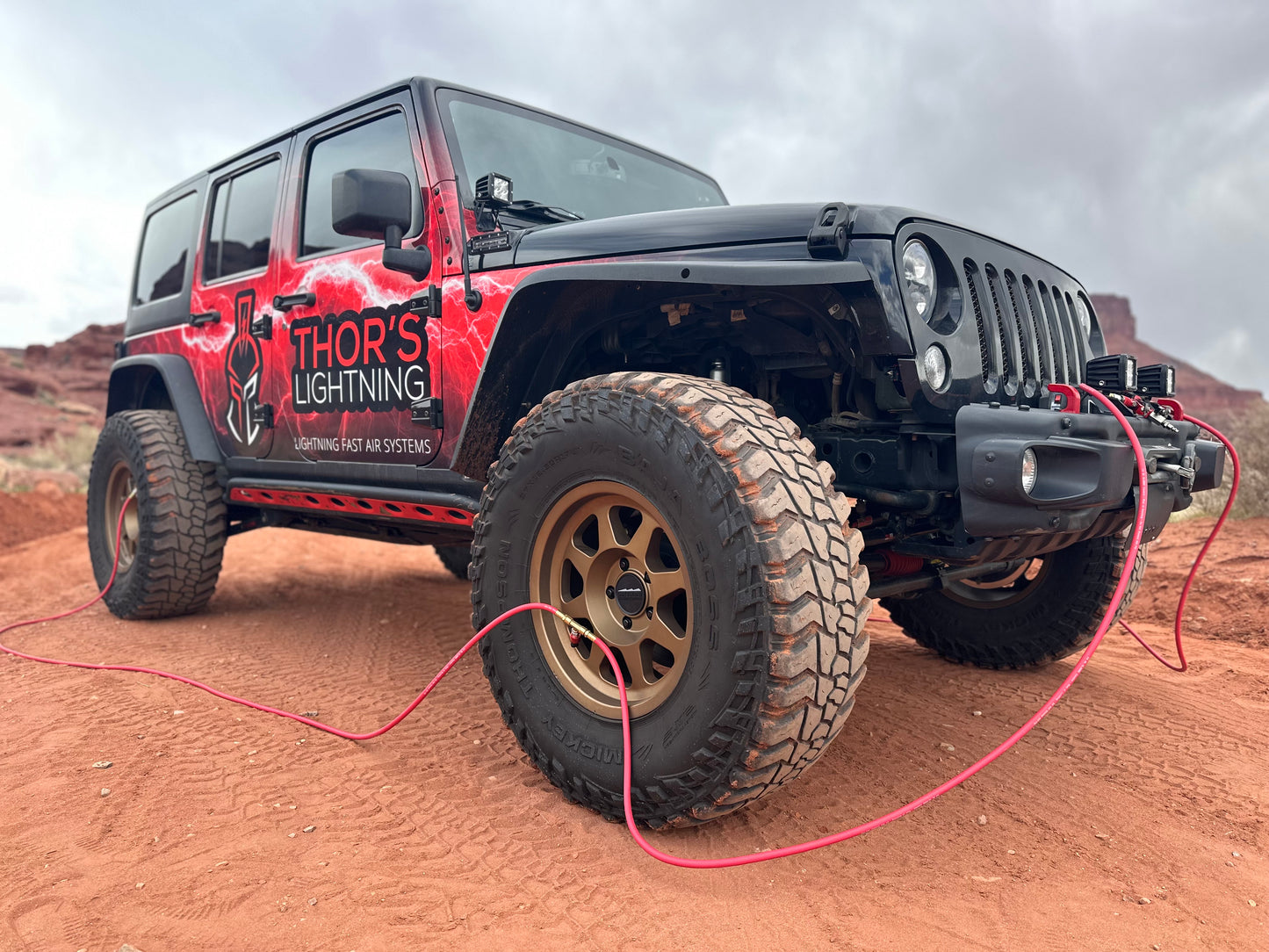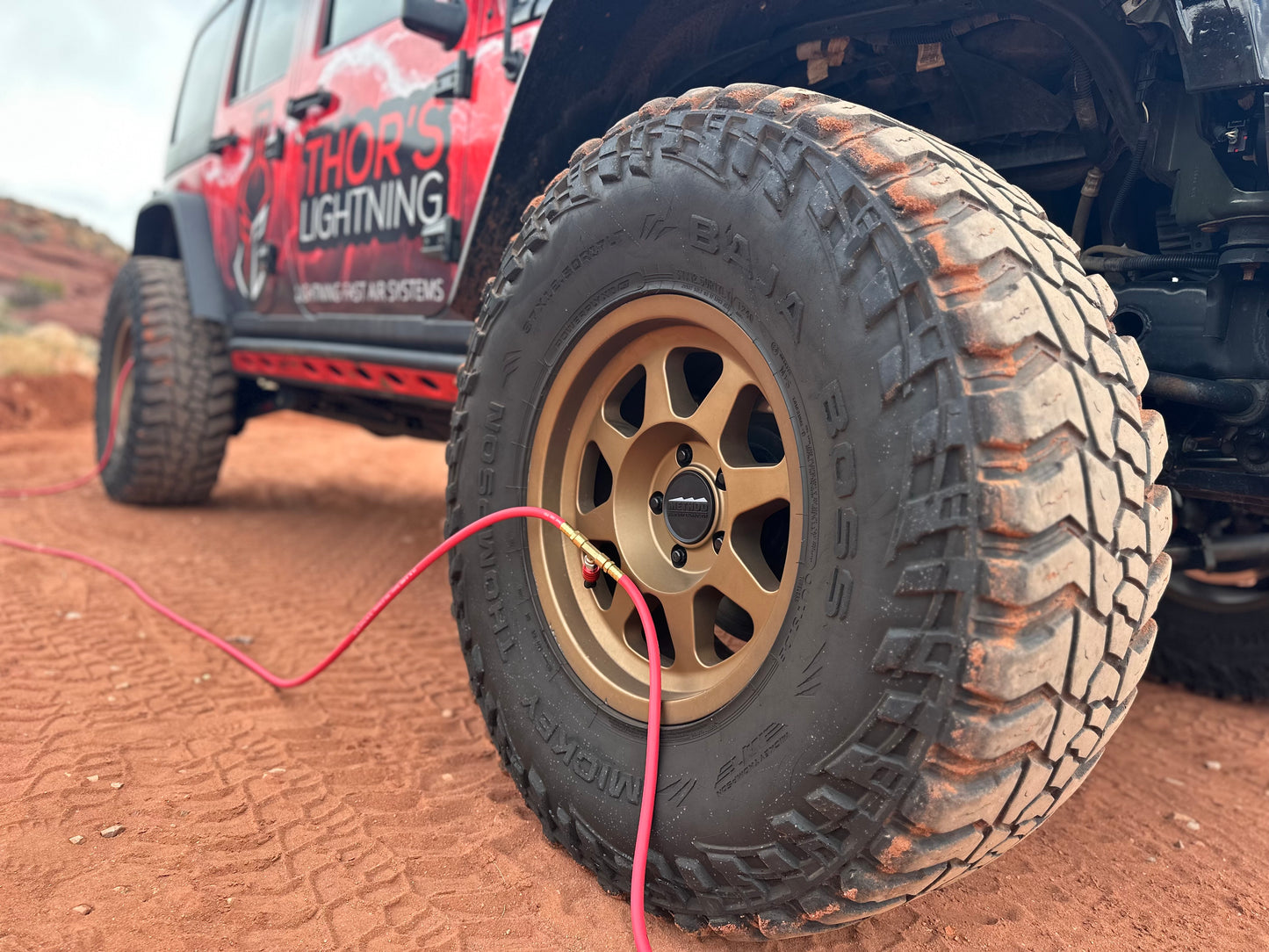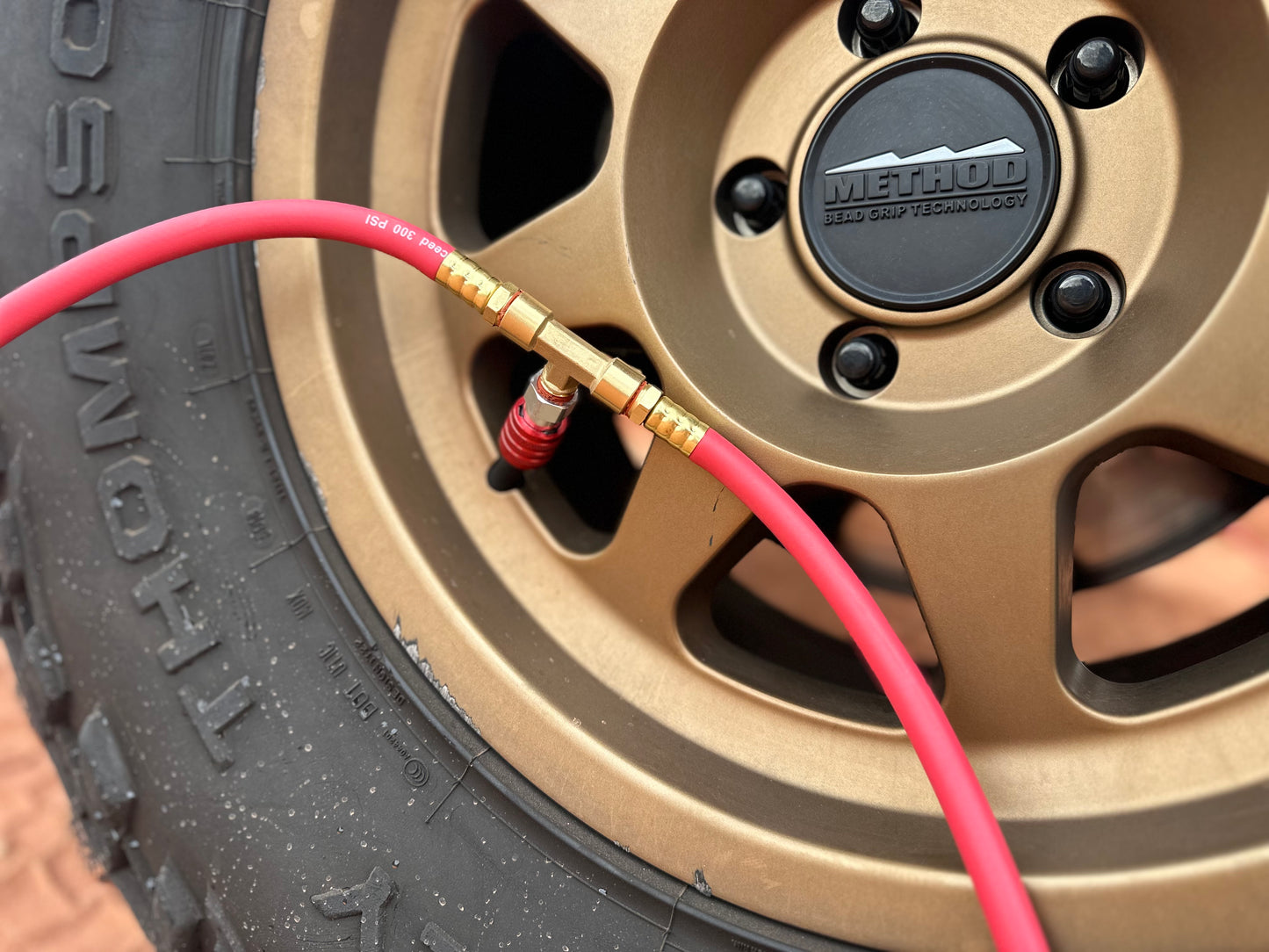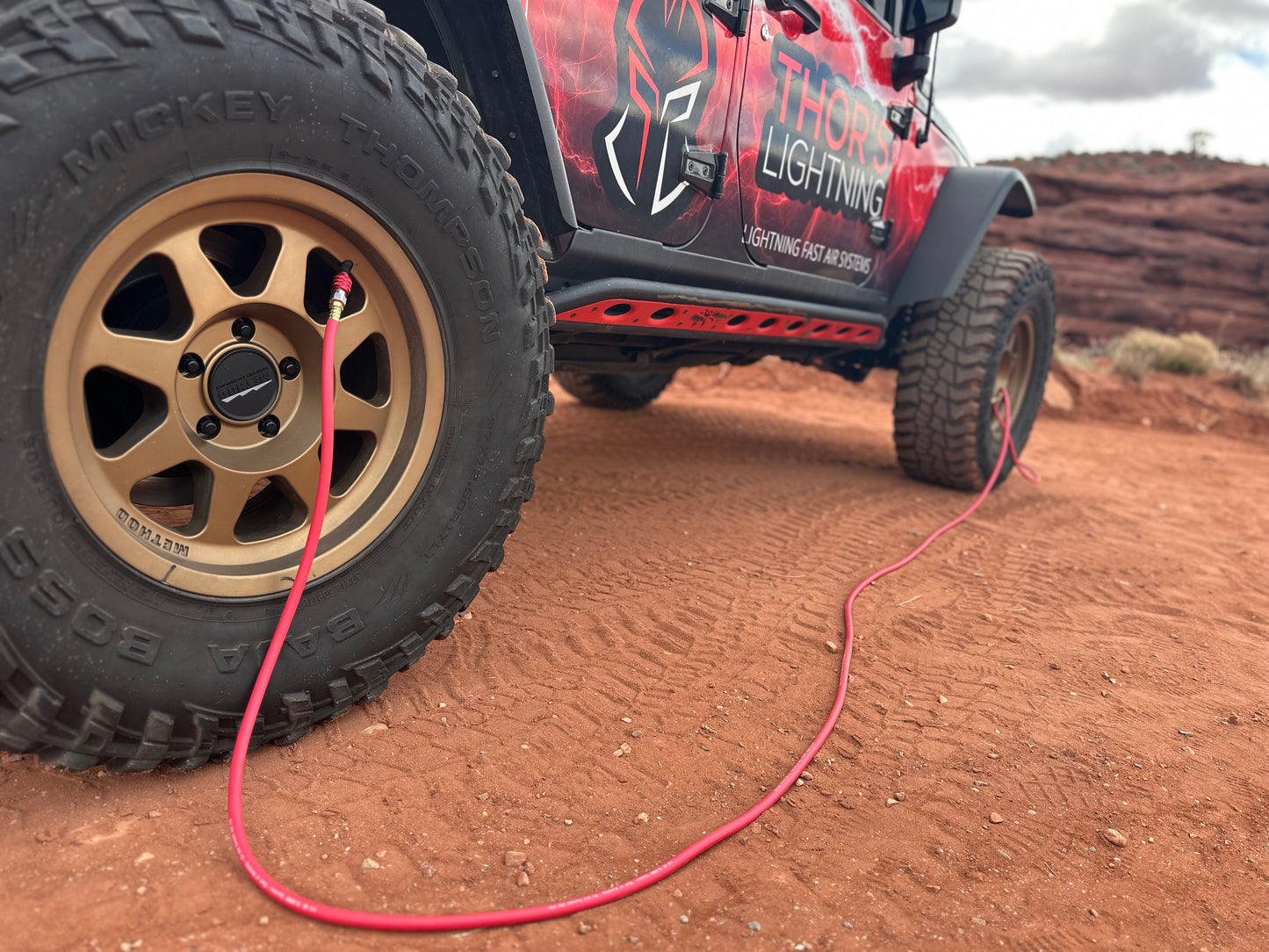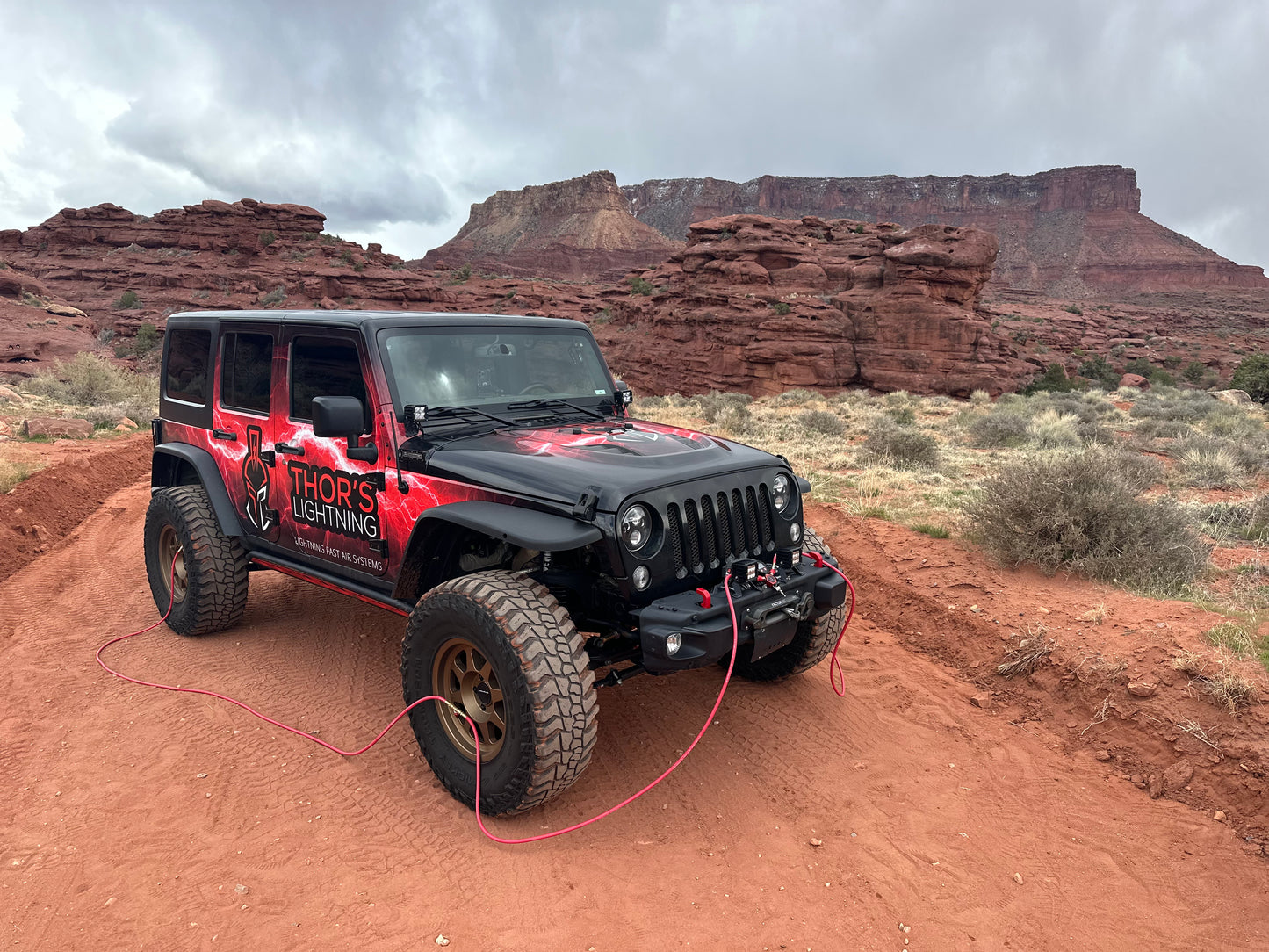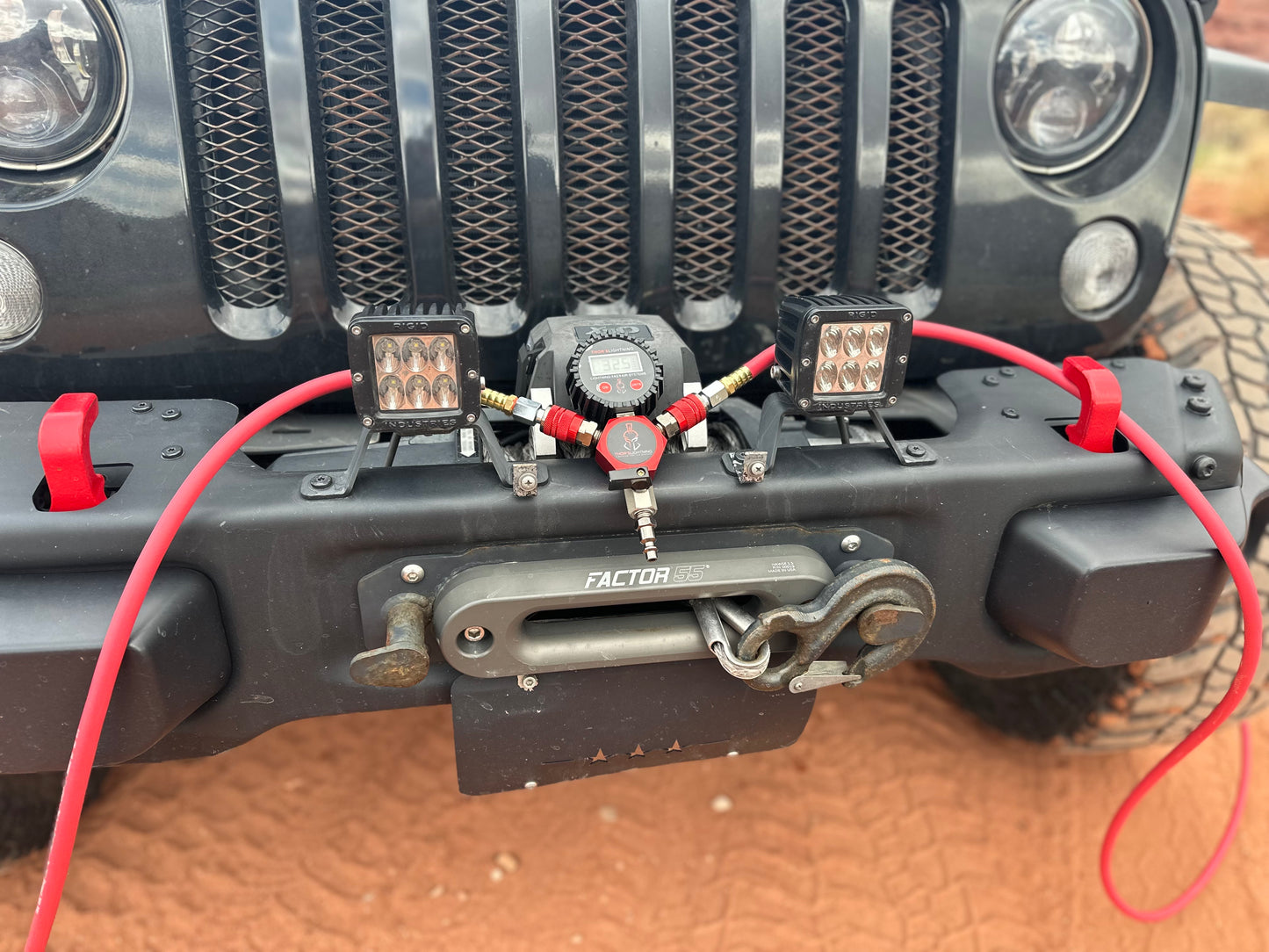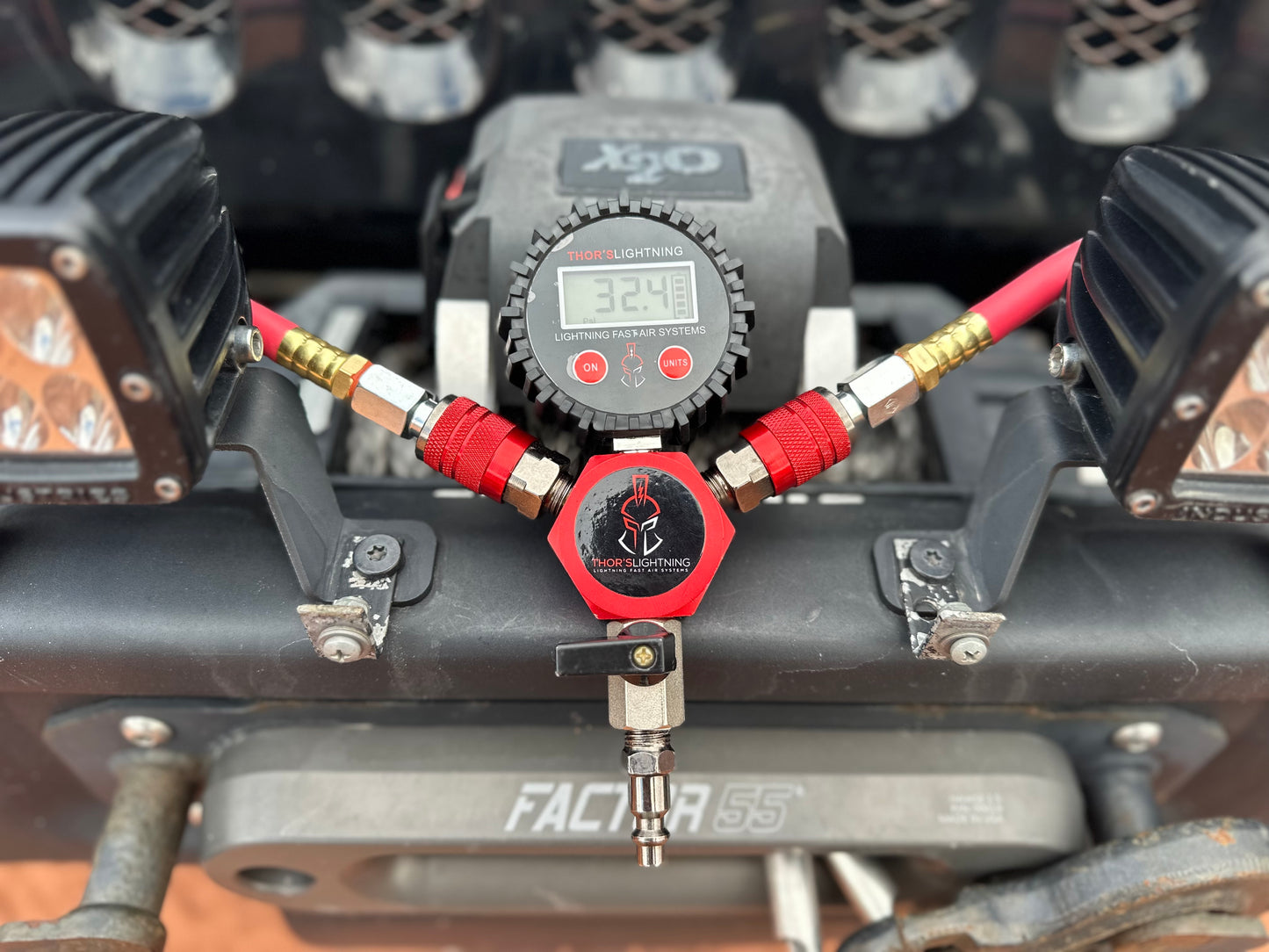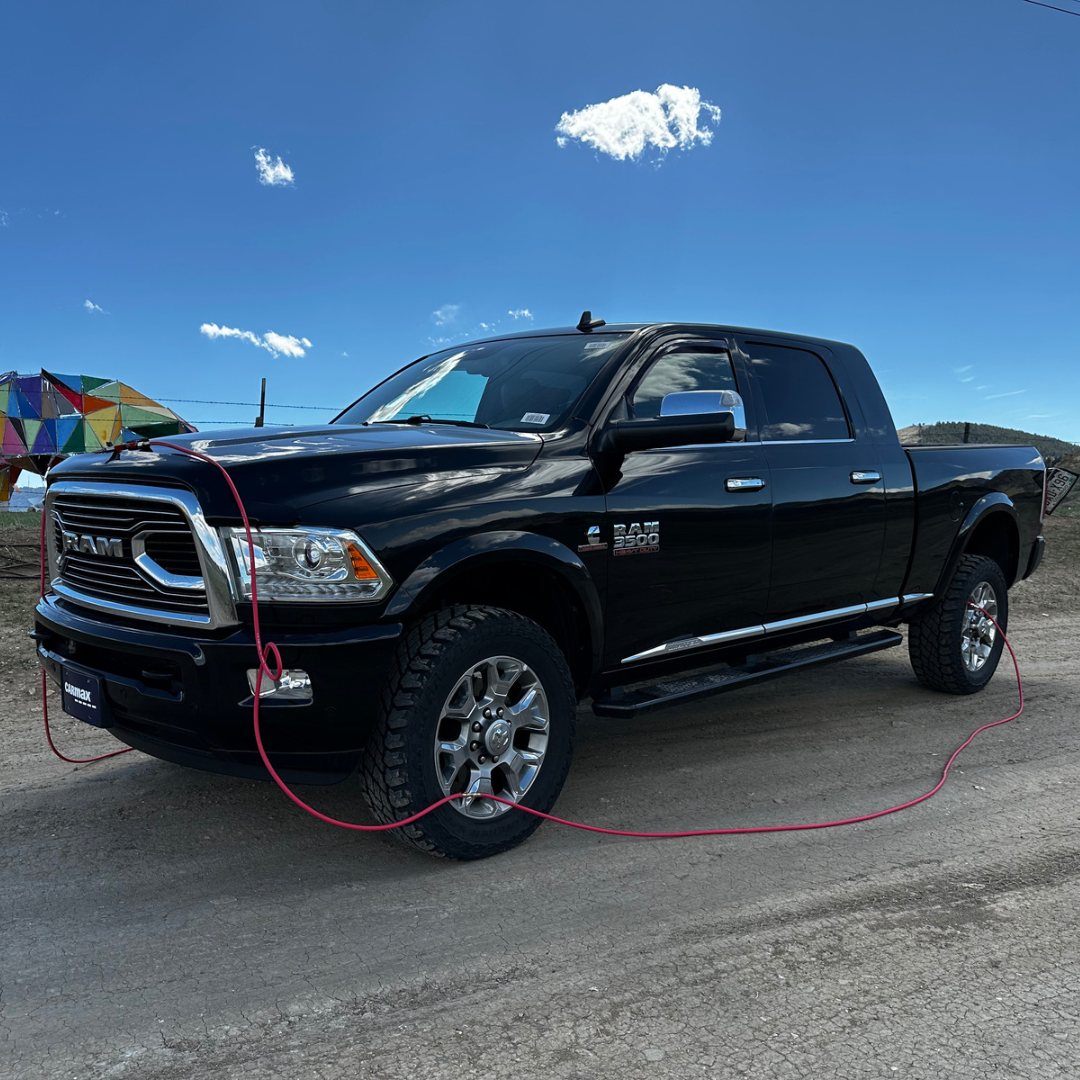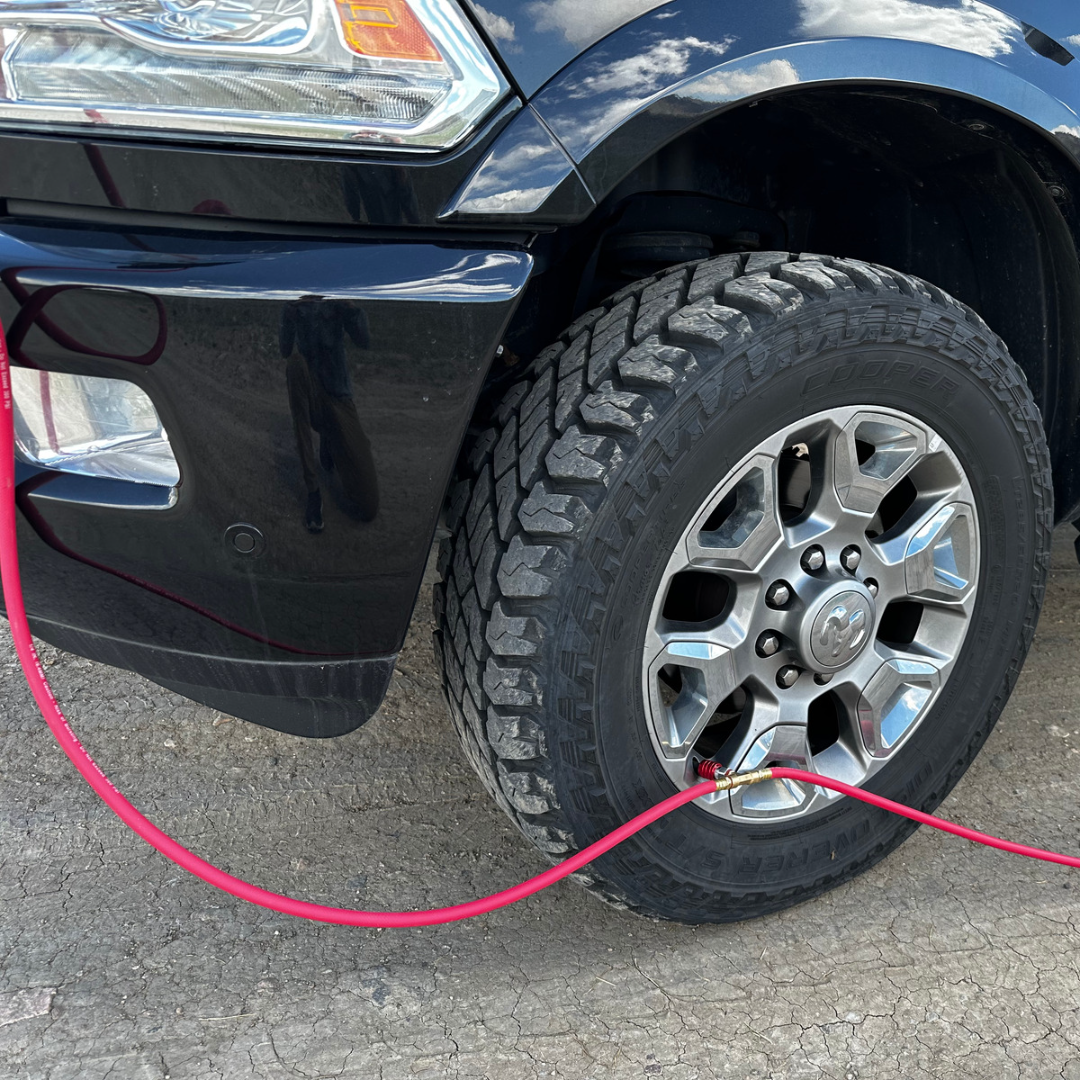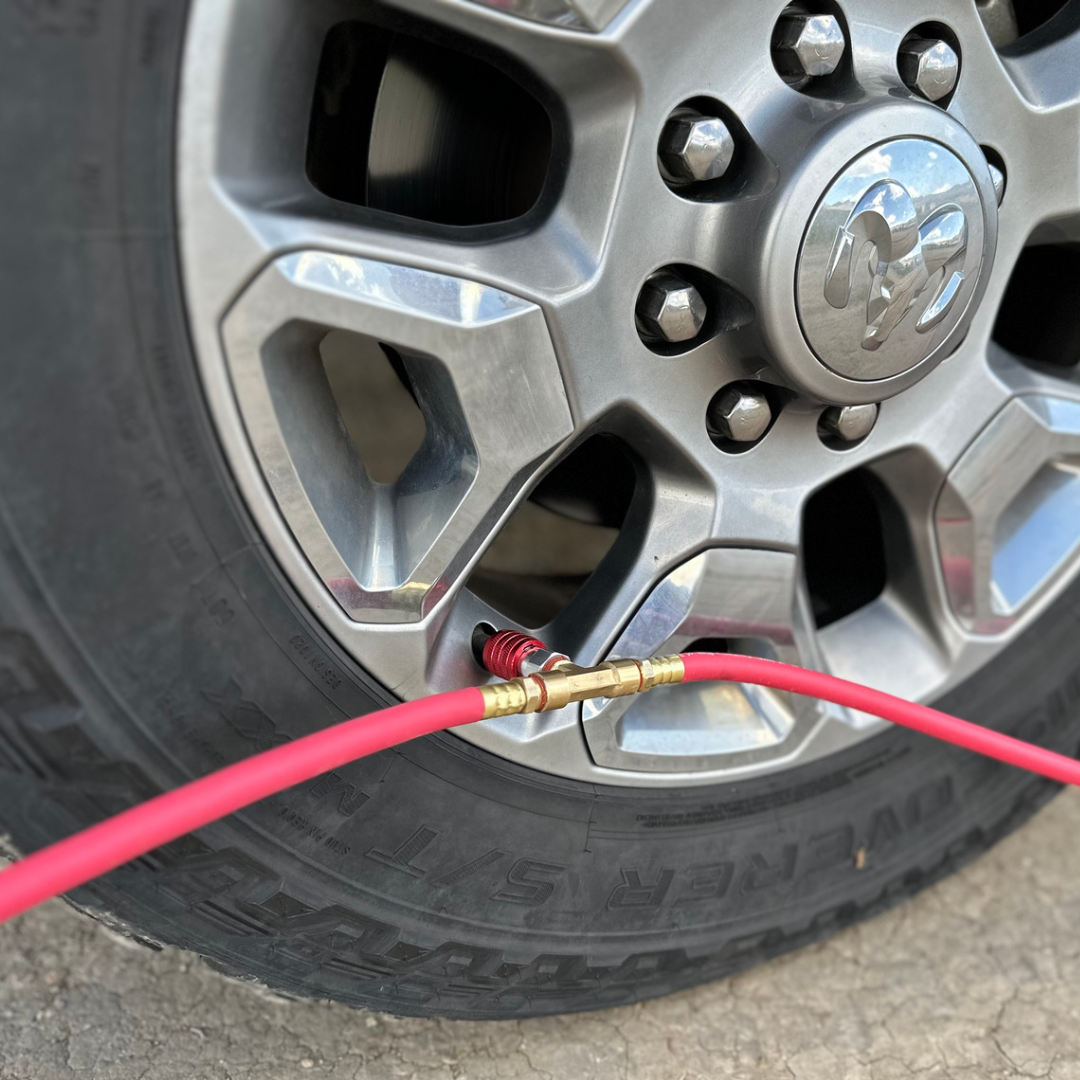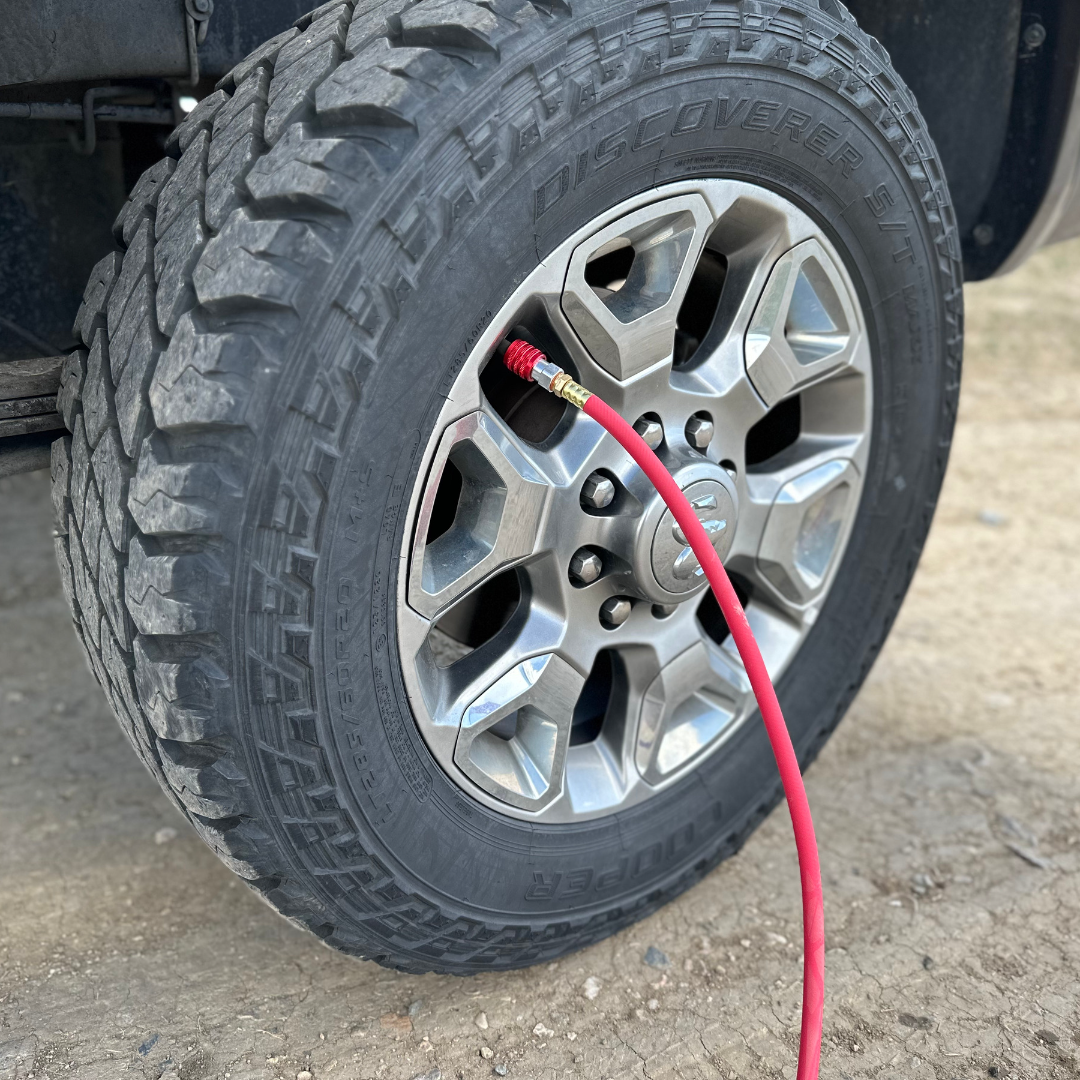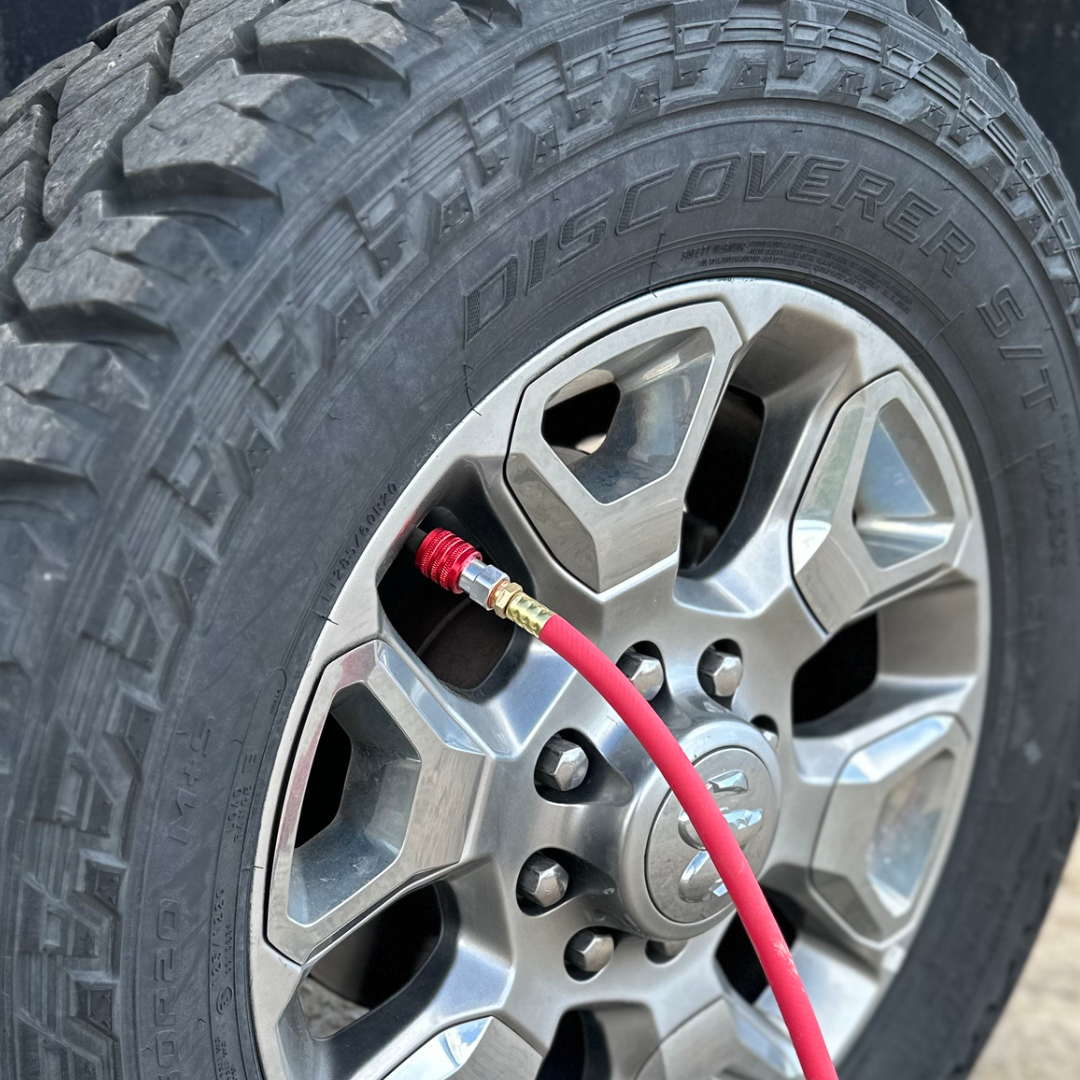 Easy and faster
So it's obviously easy to hook up, and faster to inflate. But the super awesome advantage is that all tires air down and up to the same pressure. So awesome. Quality of the kit is way over built and top notch. Imagining my kids will be using this eventually!
Very Fast
Tested the Thor's Lightning Air System and it is very fast. I have two Jeeps and it's hard to imagine using a single compressor to air up eight tires one at a time. It would probably take 1.5 hours, but takes less than ten minutes with Thor's Lightning
Tire inflator system
Works like a charm. Quick connections do not leak good quality!
Only used it once so far and not impressed. The connectors were difficult to get on the valve stems and leaked a little. Might be a little learning curve to get past.
John- it was great to chat with you via e-mail. Please let us know if you need anything else- we look forward to hearing how everything works once you get more repetitions using the system!
Excellent Product
Received my order within 2 days, great quality product.