Regular price
$174.99 USD
Regular price
Sale price
$174.99 USD
Unit price
per
Sale
Sold out
The Thor's Lightning Rapid 2-Tire Air System allows you to air up and deflate 2 tires at the same time. Perfect for motorcycles, small trailers, or other 2-tire setups. The system can be used from the front or rear of the vehicle. The system includes the Thor's hammer manifold (choose red, blue, or silver) with a digital gauge and quick disconnects STANDARD. The system utilizes high-diameter (3/8") hybrid rubber-PVC hose that works insanely well in cold temperatures, high-flow brass fittings, high-flow lock-on air chucks, and the incredible high-flow Lightning Fast Hammer Manifold. As a result, this is the FASTEST air system on the market. Other systems on the market use 1/4" diameter air hose, which restricts air flow- that's why we use the biggest and best! The Thor's Lightning Air System is the perfect companion for any air source- single or dual air compressors and PowerTanks. Once you manage the air pressure on multiple tires at once, you'll never go back to the old fashioned way!
For vehicles with a compressor mounted in the middle of the vehicle (under the driver seat, etc.), a Thor's Lightning Air System Hose Extension is recommended to allow the hose to reach the opposite side of the vehicle. The Thor's Lightning Air System Hose Extension can also be used to help a friend on the trail air up, or use air-powered tools. The standard Air System and Air System Hose Extension comes with a fitting that will connect to air sources equipped with a standard I/M fitting such as ARB or PowerTank. For most other air compressors such as the Thor's Lightning Bolt, SmittyBuilt, MaxiTrac, etc. a "Nitto" style adapter will be required for the Air System to be connected. For users with Viair compressors, a dual-quick disconnect Air System Hose Extension will be needed.
INCLUDED WITH AIR SYSTEM:
Thor's Hammer Manifold with digital pressure gauge and quick disconnects
2 Air Hoses with lock-on air chucks for 2 tires with Air Chuck Covers
Thor's Lightning Zippered Carrying Bag

Pair of Thor's Lightning Velcro Straps (helps organize hoses)
1 year full warranty
Share
View full details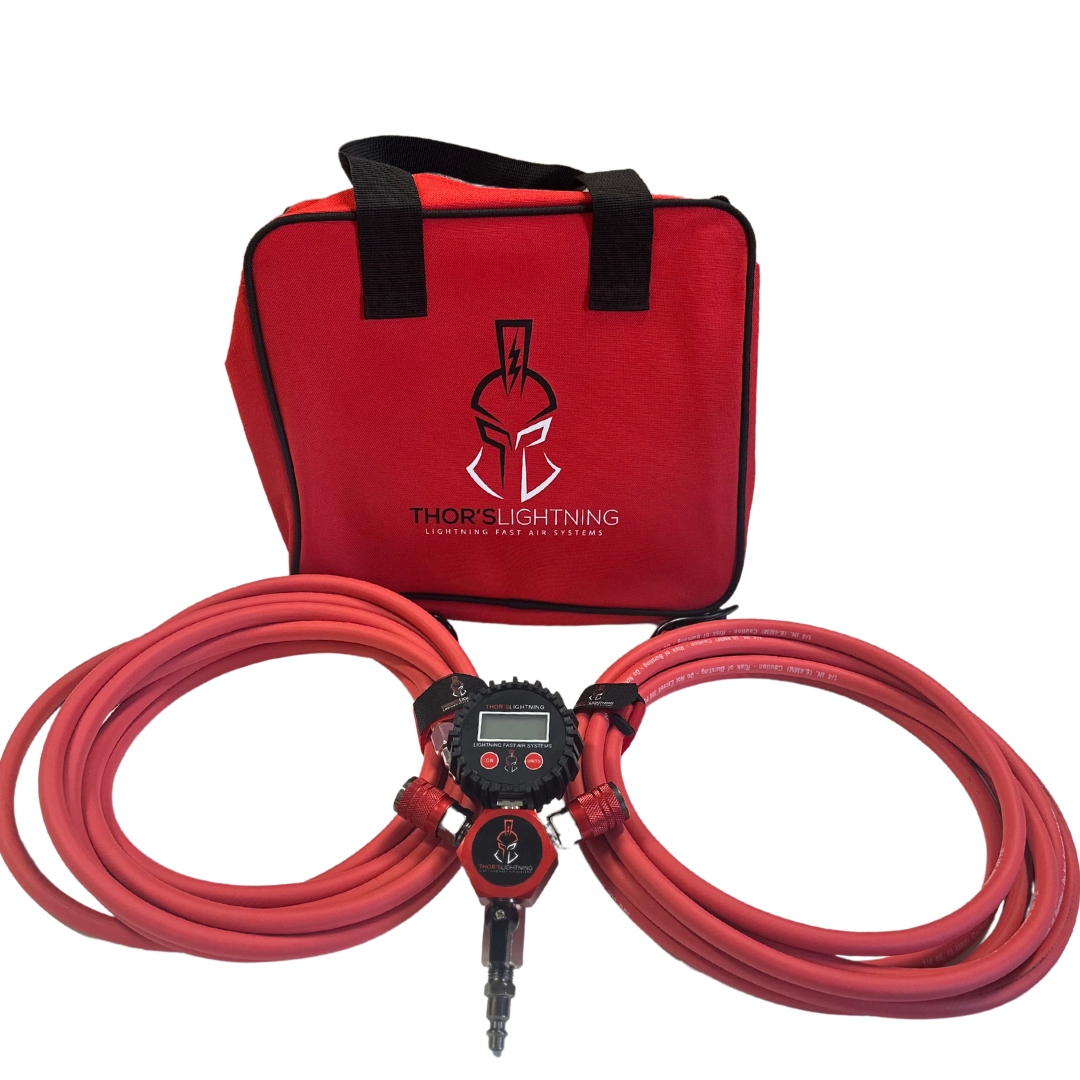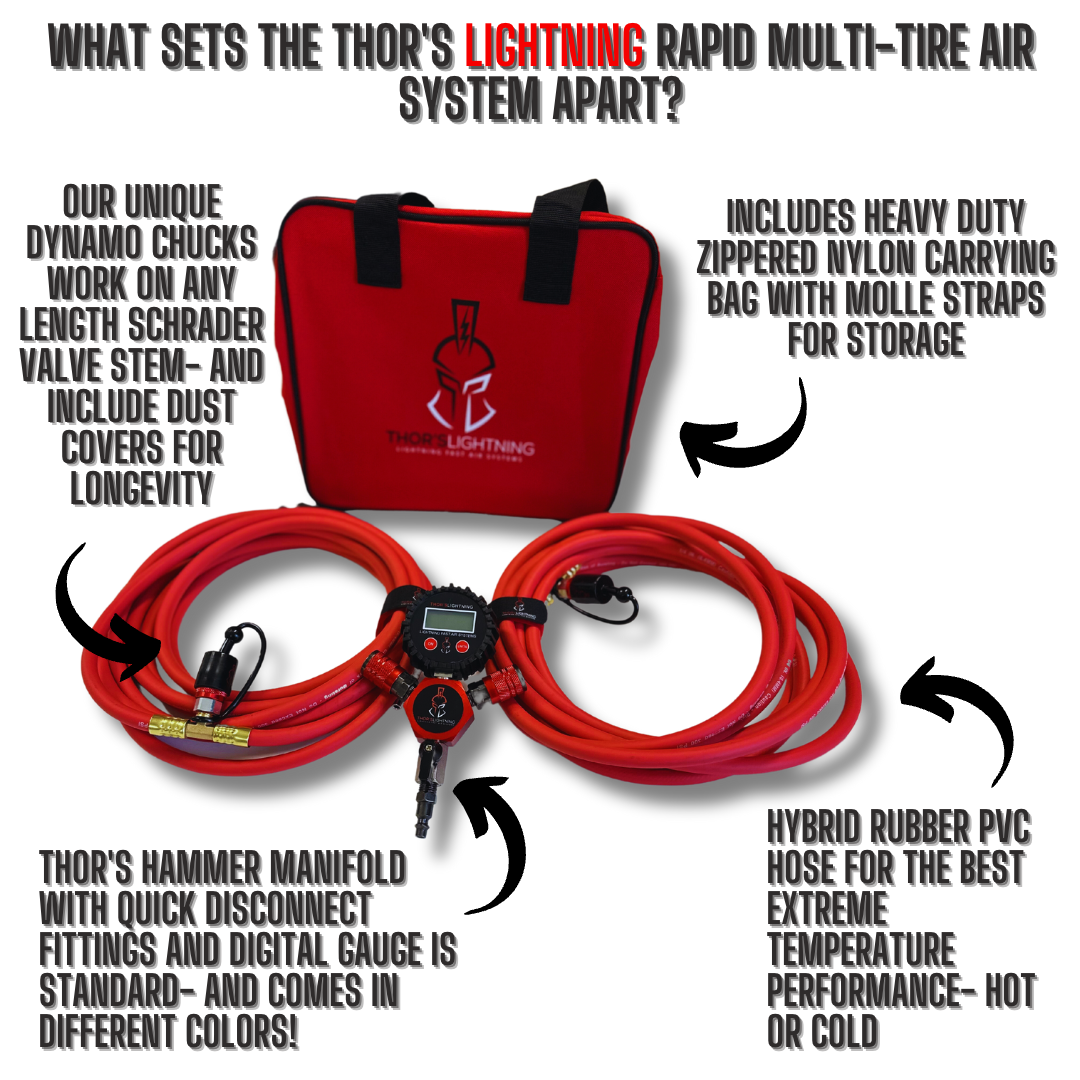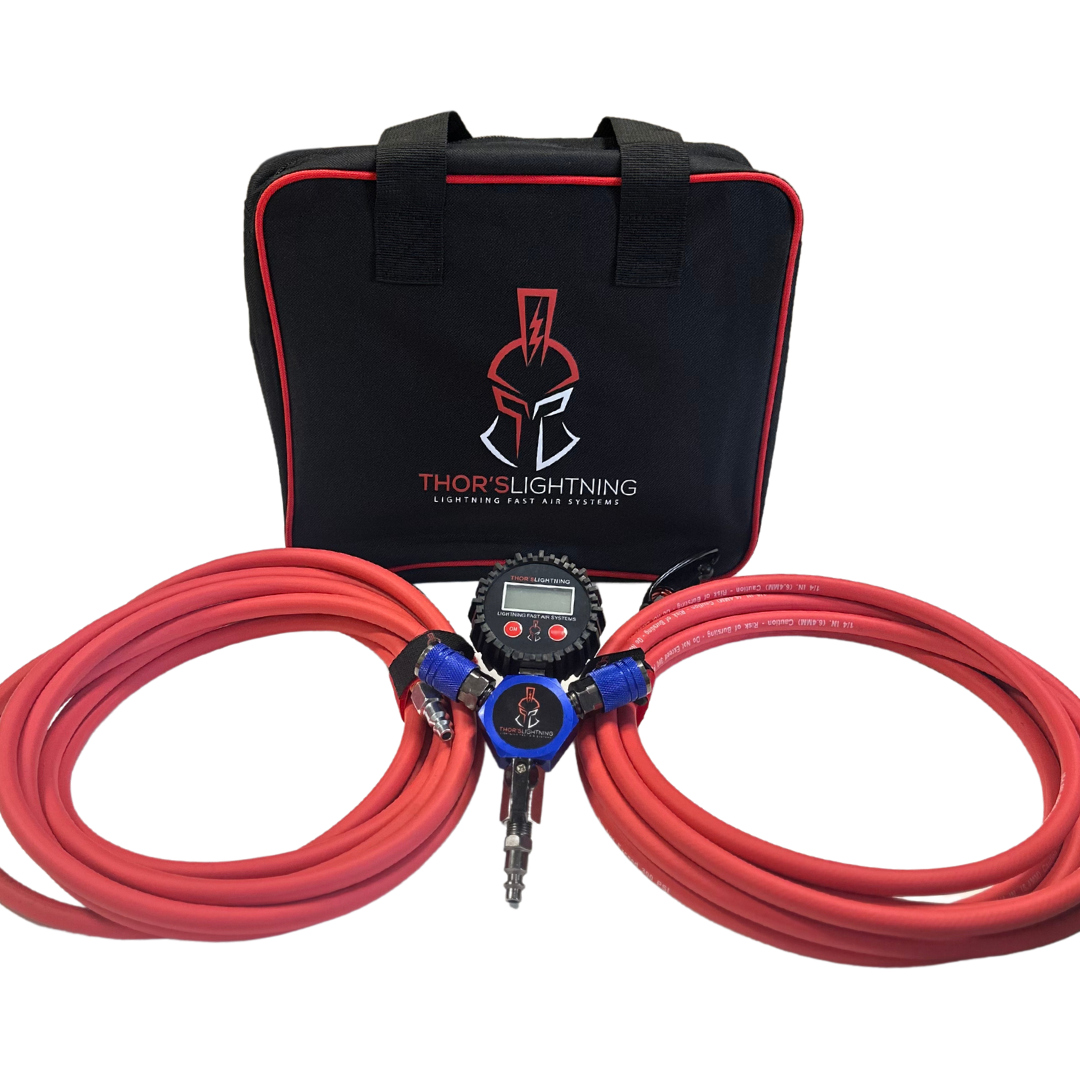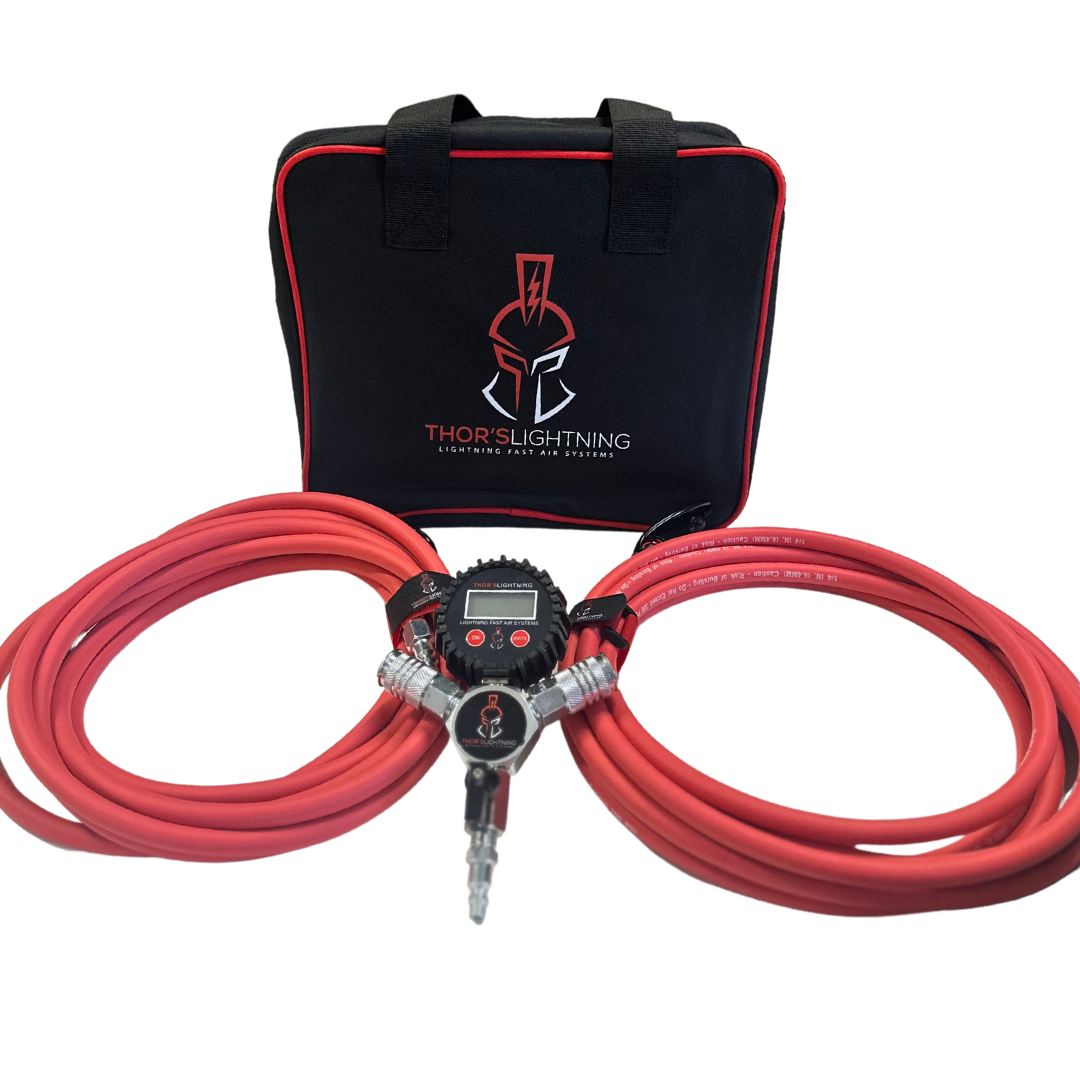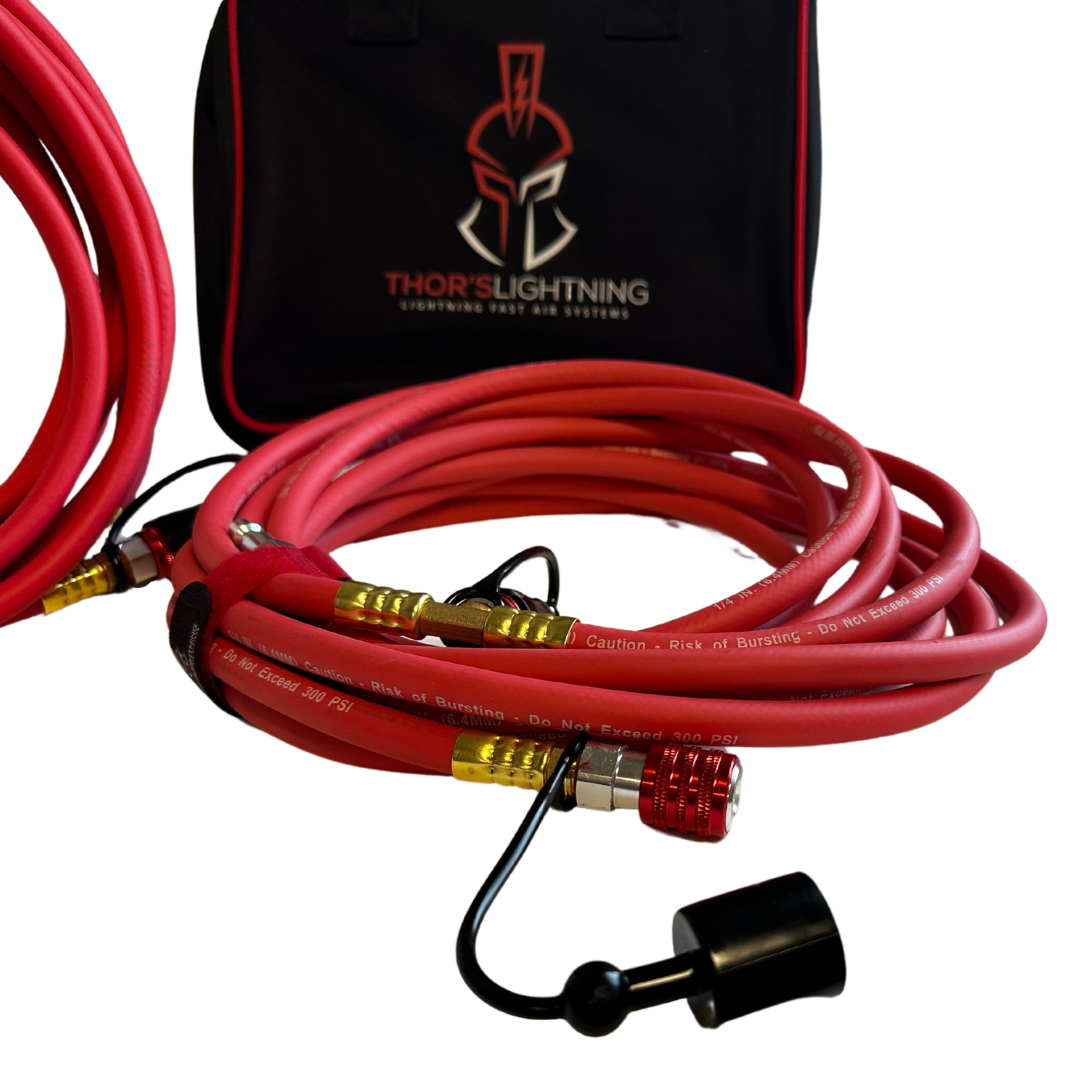 Thor's Lightning Rapid 2-Tire Air System
Very well built air system. Would highly recommend this system.